All our pots / tubs are manufactured from a food grade POLYPROPYLENE usually referred to as "PP" with the symbol "5 PP" at the bottom of the pack.
Polypropylene has some great properties that make it very useful as a packaging raw material.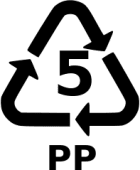 Advantages
Good stiffness/impact balance

Chemical and thermal resistance

Reduces environmental impact

Good moisture vapour barrier

Hot fill and retort capable
Sustainability
It's a real trend in packaging and a growing direction in the packaging market. Essentially, it refers to the impact a product has — on society, on finances, and on the environment. Did you know that polypropylene is fully recyclable? Or that it's easier to recycle than almost any other plastic? It even flows more easily as it degrades, without cross linking, gel forming or off-gassing.
Carbon footprint
In terms of energy efficiency, polypropylene is comparable in gross energy to produce to many other plastics used for packaging.

Polypropylene produces less solid waste by weight than PET, PS or PVC.

Polypropylene produce significantly less CO2 equivalents by weight than PET, PS, and PVC.
The low density of clear polypropylene reduces environmental impact.